Urbanisation across the globe is one of today's biggest talking points and, looking specifically at real estate, the cost pressures on housing, office and retail space have been much discussed. By and large these cost pressures have delivered fantastic returns for those invested in major urban areas.
In the UK, the period 2011 to 2015 saw phenomenal population growth in major urban conurbations, notably London, whilst in less dense areas of the country the population stagnated and sometimes even shrunk. Looking at small geographical areas of around 650 households, or Lower Layer Super Output Areas (LSOAs) - of which there are 34,753 in England & Wales - we can look into the urbanisation trend in more detail.
In Figure 1, the LSOAs in England & Wales have been organised into baskets (on the X axis) based on their population growth between 2011 and 2015, and then plotted against their average population density in 2011. In short, this demonstrates the extent to which highly dense areas have delivered very strong population growth whilst areas of low density have delivered limited or negative change in population. It is also notable that the majority of LSOAs are in the low growth baskets e.g. population growth is concentrated within quite a small area of the UK.
What does this mean for the industrial and, specifically, logistics sector in London?
The market is well aware that the density trend has delivered substantial returns for investors in the housing, offices and retail sectors. The historic and potential returns in the urban industrial sector are less discussed. The data suggests the sector is ignored at our peril.
Figure 2 demonstrates that in the 16-year period through to end-2016, industrial property in London, based on MSCI figures, delivered a return of 10% per annum, well above All Property and also beating offices in central London. Importantly, this return has been based on strong rental growth –a good indicator of sustainable performance.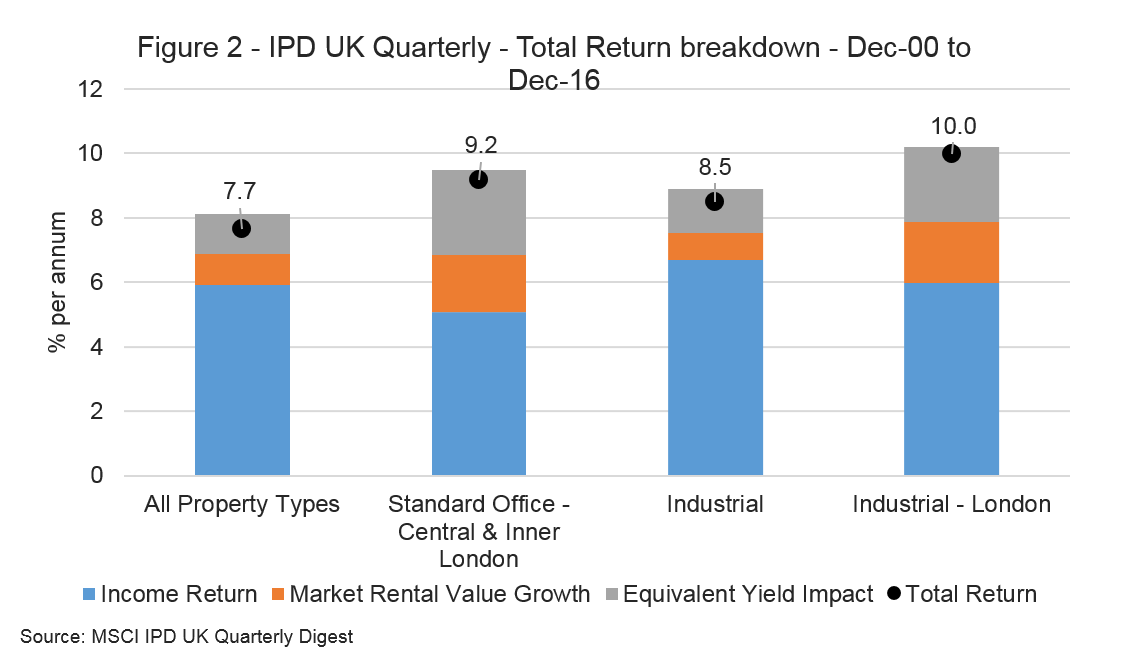 The historic return has been the product of a demand and supply imbalance in the rental market, and a repricing by investors over the period to reflect more positive views on this particular segment.
On the supply side, considerable industrial space has been lost to other uses. The VOA estimates that Greater London's total stock of industrial floorspace has declined by around 20% since 2000.
On the demand side, however, it feels like the uplift in structural demand for logistics property in London is just beginning. Why? Broadly because of demographics, shopping habits, data and technology as outlined below:
The population density of London and other major conurbations is expected to increase further. For example, the Greater London Authority expects the city's population to increase a further 5% between 2015 and 2020.
Online shopping will continue its growth, with eMarketer predicting online sales of £95 billion by 2020, representing 23% of overall retail sales. The effect is likely to be more pronounced in urban areas, with their youthful populations more comfortable with shopping online.
Increasing use of Big Data. Retailers are becoming ever-more focused on using data on consumer spending to understand what they will buy online, and when. Amazon has already been granted a patent for 'anticipatory shipping', a delivery system designed to minimise delivery time and warehouse costs by predicting what consumers will buy before they actually do…
And finally, the rise of automation. Retailers employing automation in warehouses are able to drive down costs and increase efficiencies. John Lewis, for example, has worked closely with the KNAPP Group at its National Distribution Centre in Milton Keynes. The latest automation investment enabling the retailer to consolidate hanging garments with other goods for both store replenishment and online orders, driving further efficiency in the supply chain.
What is key from an investment standpoint, is that online retail in urban areas is able to become a profitable enterprise, with sustainable growth. If this becomes the case, then the strong rental gains we have seen in the London industrial & logistics market so far will take on a more linear trend, with investors continuing to enjoy outperformance driven by structural changes.